Stairs
Stairs play an important role for both the function of a home and its design. Staircases connect interior spaces physically and bridge their energy. As a fundamental factor for first impressions, they can outline and draw attention to the character of a home.
We have been building and installing staircases and stair systems throughout Alberta for over 40 years. By combining our award-winning design talent with the largest selection of locally sourced and locally manufactured stairs, we offer an incredible variety of design and material options for your home.
Types of Stairs
There are many types of stair systems and designs to choose from. It can be easy to get lost in the terminology. We do our best to have accurate descriptions with pictures of real-life examples. If you want more details, or would like to see the different types in person, come by our showhome. We will be happy to answer all of your questions and even provide a free consultation.
One of the first distictions of stair design is the shape of the stair carriage. Here are the most common options.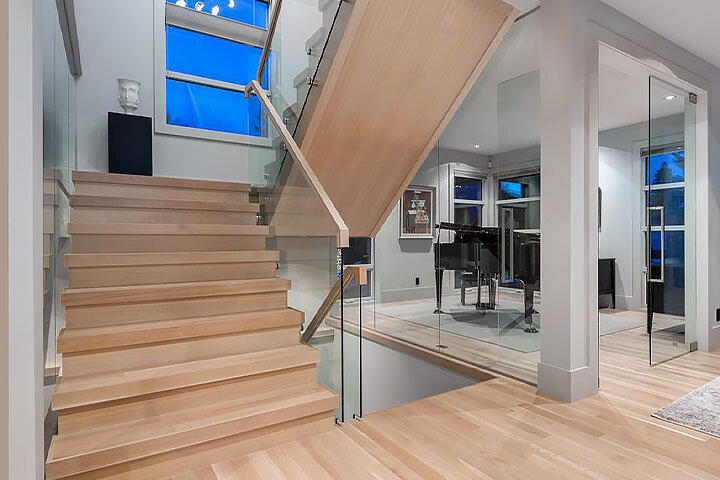 Straight Stairs
A straight stair carriage uses only straight support structures that either run continuously or connect perpendicularly to a landing or platform for an L-shape or a U-shaped switchback. This provides the most efficient use of square footage. Straight stairs are often chosen to maximize space or to contribute distinct straight lines to modern home designs.
Curved Stairs
Curved stairs require custom-made stringers that are engineered to meet the exact requirements of the staircase design and floorplan. The custom nature of curved staircases means that they are carefully crafted and pre-built in our facilities prior to being transported and installed. No single design element in a home is as breathtaking and captivating as a carefully crafted curved staircase.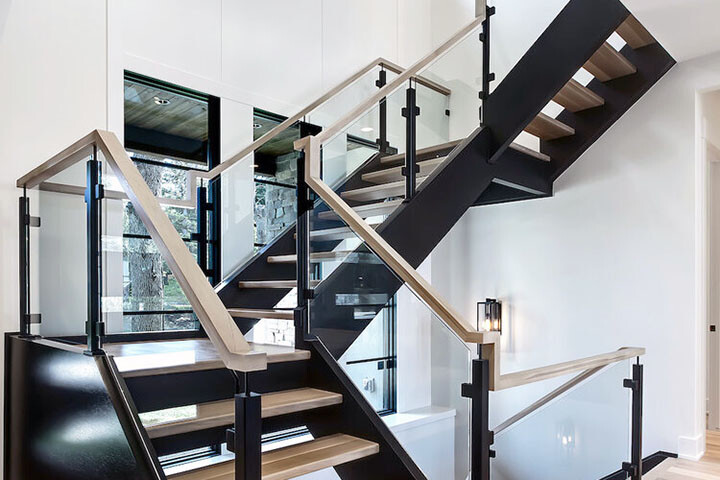 Freestanding Stairs
The term "freestanding", in relation to staircases, has evolved to have different meanings to different people. The original context refers to staircases that are entirely self-supporting, with no walls below or to the sides. The newer context refers to stairs that appear to be integrated into the walls themselves, with no visible stringers or support structure. Whatever the meaning, we've got you covered!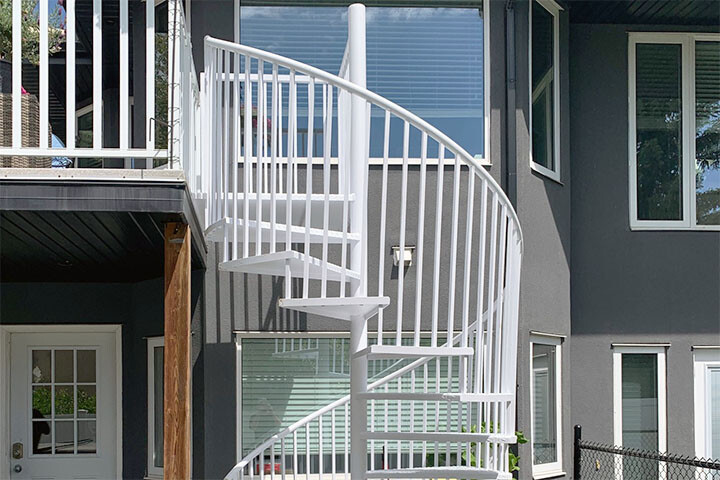 Spiral Staircases
With a minimal footprint and incredible flexibility, spiral staircases are a favourite for secondary stairs, both indoors and out. They are self-supporting and can be built to any height, with custom entry and exit points to accomodate existing spaces. Spiral staircases are also chosen for their aesthetic appeal, with all the charm of a classic european town, or as a focal point for contemporary home design.
Stair Design
Once you know the type of stairs you are deailing with, you can move on with some of the finer design details. Here we look at options for the stringers, treads and risers.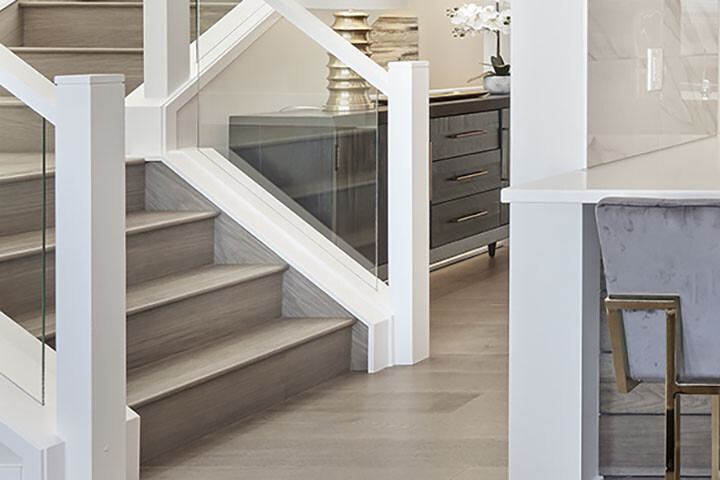 Closed Rise Stairs
Risers on a staircase are placed between treads, filling the vertical gap between each step. Closed riser stairs are common in traditional and modern home designs, especially where staircases are stacked together to maximize liveable space. Stair risers can be made from different materials with a variety of finishes to contrast or complement the colours and textures of the treads.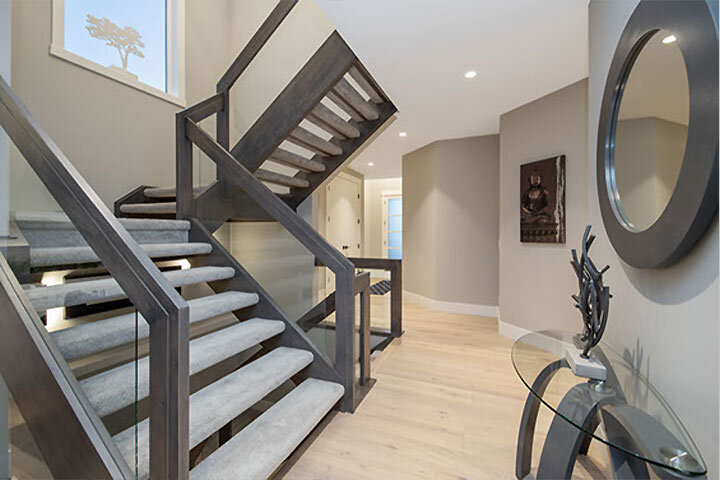 Open Rise Stairs
Many homeowners are foregoing the traditional closed staircase to glean the benefits of an open concept design. Open rise staircases leave an open verticle space between each tread, allowing light to pour through. The uninterrupted line of sight creates the illusion of larger interior spaces. An open rise can be incorporated into any type of stair design, with plenty of material and profile options for treads and stringers.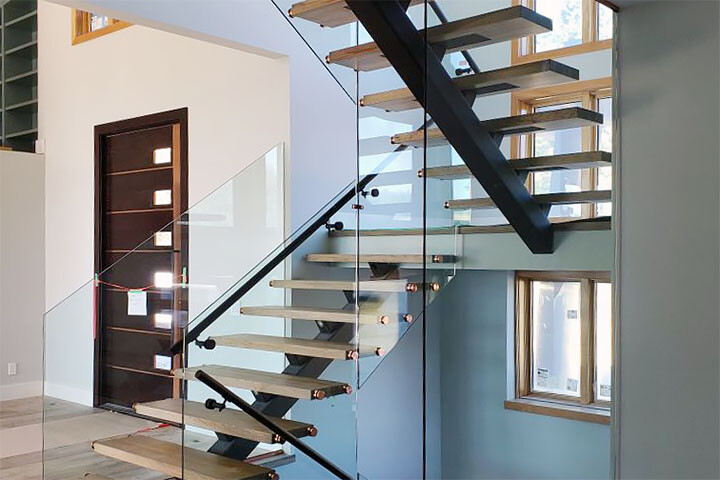 Monostringer Stairs
Monostringer stairs give you more with less. The carriage consists of a single custom-engineered stringer acting as a center spine for your treads. With less material and less obstruction you get more light, more air, and more WOW factor. Stringers can be steel or wood, and can be made for both curved and straight staircases.