The workhorse for most homes often hidden under carpet is the trusty construction grade stair. These types of stairs start out with basic materials and seamlessly provide the connection to all the different levels of a home or business.
Options for Construction Grade Stairs
These types of stairs can be dressed up or kept simple depending on your style needs and budget. We can build them with veneer clad stringer to up the look and optionally make them ready for hardwood flooring installation.
Construction Grade Stairs can be built with "Western" or "Eastern" style stringers. Most common is the Western stringers because it allows for a clean finish again adjoining walls.
Our Unique Manufacturing Method
Artistic Construction Grade Stairs are built using engineered stringers. These stringers not only reuse wood chips as their building block instead of virgin materials but they also will not warp and offer added strength. We are the only stair builder to use this material for our stair stringers. We also use the highest quality plywood for the treads and risers.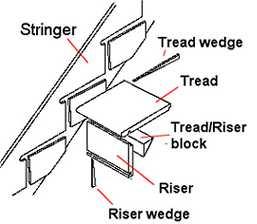 The treads and risers are glued and screwed into place with wedges. Along with the squeaker block this ensure many years of squeak free stairs. No other stair builder goes to this much trouble to ensure the best stair experience around.
We can also build our construction grade stairs with self-supporting landings. This eliminates the need for a support post interrupting the site lines in the stair case area and elevates the look and feel of the home.
Getting Started
Getting started on your construction grade stairs is easy. Simply contact Artistic Stairs and Railings, tell us a little about your project and we will begin preparations. If you already have a design in mind, we are more than happy to help you bring it to life. If you aren't sure what you want your stairs to look like, we will help you explore options while showing actual examples in our show room or reviewing pictures. Whether you are incorporating new hardwood flooring or building an new home, the people at Artistic Stairs & Railings have the skills and expertise necessary to get the job done right. We will work hand-in-hand with you through every stage of planning, design, building, delivery and the installation process.
You will want to get us involved very early in the building process to get the construction grade stairs to site with the framing package or at least while the framer is there to make this part of the build as efficient as possible.
Our reputation speaks for itself, and customer satisfaction is a must for our company. If you choose Artistic Stairs & Railings to complete your staircase project, we will do everything in our power to ensure that you are not only satisfied with our products, but also impressed with its beauty and quality.
Contact us today to discuss your project or set up a meeting. We look forward to hearing from you!
REQUEST A QUOTE:
Items Needed for Quote:

Floor plans of each staircase.
Elevation and design drawings with specifications, including and not limited to, handrail systems and wood species.
Simple line sketches showing basic staircase dimensions if prints are not available.
PDF and CAD file formats are acceptable.
Inspiration photos.

Upon receipt of floor plans, a formal estimate will be prepared in a timely fashion for your review and consideration.
STAIR MEASURING PROCESS:
Upon acceptance of formal estimate, the design process will begin using one (1) of the following measuring options:

Dimensions specified on your architectural plans.
Dimensions provided from actual field measurements.
Dimensions we can obtain by visiting your jobsite.
NOTE: Conceptual drawings can be drawn to begin the process.

Upon approval of drawings, the staircase carriage is fabricated in the shop with finished treads, risers, and stringers.
STAIR DELIVERY PROCESS:
Construction Grade Stair Installation:

Construction Grade Stairs are delivered to site by our drivers and left onsite to be installed by the framer
This is the most common method for installation of these stairs.

We Install Construction Grade Stairs

The fully constructed stair is delivered to site and our crew installs the stair. This will need to be coordinated with the framer to ensure proper installation.
From Inspiration to Installation
Commitment for over 30 years to building the highest quality, custom commercial and residential staircases.
Industry-leading design team with extensive capabilities to turn your vision into reality.
Innovative approach, embracing the challenges of designing creative, one-of-a kind staircase projects.
Expert wood and steel craftsmanship with flawless execution.
Seamless project management with a commitment to meeting schedules and delivering results.
Trusted reputation for meeting the high expectations of our clients, ensuring the staircase makes a memorable statement.
In-depth knowledge of codes and regulations, ensuring a smooth construction process, perfect measurement and installation.