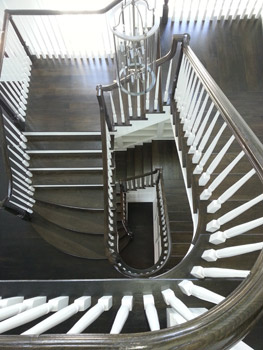 In 2009, two industry-leading staircase manufacturers joined forces to create one of North America's largest stair and handrail companies. Each bringing decades of experience and skill in design and construction, Artistic Stairs and Southern Staircase formed not only one of the largest stair companies, but the most talented and capable. With divisions from coast to coast in the United States and Canada, we are uniquely positioned to deliver the highest quality residential and commercial staircases across the continent.
Artistic Stairs
Since its inception over 35+ years ago, Artistic Stairs has earned an excellent reputation for high quality craftsmanship and skill. In 1979, Bill Langen founded the staircase manufacturer in Calgary, Alberta. The company expanded northward to Edmonton, then in the early 1980s, entered the United States market through operations in Phoenix and Tucson, Arizona.
Artistic Stairs' continued dedication to quality has not gone unnoticed. The staircase manufacturer has received numerous accolades including both Consumers Choice and Builders Choice Awards.
Southern Staircase
Four years after Artistic Stairs was formed in Canada, Dick Hanson and Billy Martin founded Southern Staircase in Atlanta, Georgia. The stair builder grew organically throughout the southeastern United States and has established a strong national presence with additional locations throughout the Carolinas and in Washington, DC.
Over the past 30+ years, Southern Staircase has also built an outstanding reputation as a top quality, service-driven staircase manufacturer. Recognized for innovation in design, Southern Staircase is proud to serve as a trusted partner to many commercial and residential builders.
Team of Talented Craftsmen
We have proudly built a team of innovative experts, and our employees possess an average of 10 years of experience in the industry. With extensive talent and skill, we consistently deliver top quality products, professionalism, and outstanding service.
From inspiration to installation, our team works closely with architects, designers, builders, and homeowners to bring a staircase vision to life. Whether a client is seeking inspiration or has a specific style in mind, our award-winning design team will create a staircase that fits the aesthetic and functional needs of each project.
Once a concept is born, our talented craftsmen embrace the challenge of constructing unique staircases of all styles and with various materials. Experts in building code, our team will ensure that your staircase is not only aesthetically pleasing, but code compliant as well. Utilizing turn-key processes and robust project management, our dynamic installers are equipped to overcome challenges and are dedicated to timely delivery.
Custom Staircase Manufacturer with Limitless Options
Our broad product offerings vary from standard straight staircases to more complex styles including spiral, curved, flared, and circular. Our team has proudly crafted stairs with wood and steel carriages, and we work with numerous types of balustrades and limitless finishes. Balustrade materials include:
Glass
Stainless steel
Cable rail
Wood
Metal
In addition, we employ a team of artisan welders who hand forge ornamental handrail systems within our state-of-the-art facilities.
Extensive Capabilities from Coast to Coast
Our team proudly delivers top quality staircases to clients across both the United States and Canada. We operate 11 divisions throughout North America, and we have completed projects in each of the 50 states and 4 provinces
Our extensive client list includes both commercial and residential builders and owners, and we complete projects of all sizes and designs. We are honored to have been selected as the staircase manufacturer for elite projects including:
Burberry
Cartier
The GAP
Panerai
Lexus
Banks
Luxury Auto Dealerships
Fraternity and Sorority Houses
Luxury Homes Across the Nation
To speak directly with one of our experts regarding your staircase construction project, please Contact Us today.